Farm Store - Our Products

Wreaths, Garlands, Tree Stands and more . . .
All of the greenery for these wreaths is grown in Virginia.
Mixed White Pine/Colorado Blue Spruce Wreath
This wreath was the
2013 Grand Champion winner
for the Virginia Christmas Tree Growers.
White Pine Garland
Our White Pine garland is sold in 20 foot lengths and is freshly made from greenery grown in Virginia.
Below is a comprehensive list of our Christmas products. Please
contact us for more information
Christmas Trees
Wreaths 12" 18" and 24" sizes
Garlands
Tree Stands
Tree Bags
Wreath Hanger
We have several types of wreaths in three different sizes; 12 inches, 18 inches and 24 inches.
The 12 inch wreath is a typical door wreath.
The sizes are based on the wreath ring diameter to which the greenery is attached.
The finished wreaths are several inches larger when completed.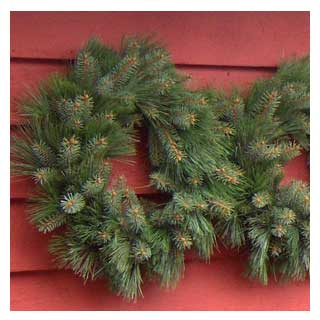 Grand Champion Award
This wreath was Grand Champion winner for Virginia 2013
and was presented at the Governor's Mansion
Tree Stands
We have a selection of Tree Stands
availale in our Farm Store.